One of our first consulting projects was a content audit that we did for a company called Filestack.
Like many companies, their content team diligently created new content every month. But for the past two quarters, their traffic had flatlined. They were looking for a way to break out of their plateau.
So we spent a week carefully analyzing their content library, finding the weakest pages and making them better.
In three months, they had doubled their traffic. In four months, it had quadrupled:
Simply put, sometimes publishing new content isn't the answer.
In this post, we'll show you how you can achieve similar growth by walking you through exactly how we performed our audit.
First, let's answer a couple basic questions:
What is a content audit?
A content audit analyzes the strengths and weaknesses of all the pieces of content on your website. During an audit you'll analyze your website's content, including blog posts, landing pages, and multimedia. The overall goal is to improve the performance of the site by finding pages that need to be rewritten, reposted, or deleted.
How long does a content audit take?
The amount of time it takes to perform a content audit depends on the amount of existing content your brand already has. We've found that identifying action items can take anywhere from a full day (for 100-200 pages) to a week (1000+ pages), with additional time required to optimize the pages. However, if you document the process and repeat it regularly, you'll find that it'll take less and less time as you gain an understanding of which pages are the most important to watch and change.
Why perform a content audit?
Most website owners rarely keep track of their posts on their website. Even when a new page is published, they hardly monitor its performance or engagement metrics. Inevitably, many pieces of content will have become stale, outdated, or completely irrelevant as time goes on.
A content audit affords the opportunity to refresh old posts to make them relevant. Plus, you'll be able to identify broader gaps in your content which can inform the upcoming content calendar.
Below are some of the things you stand to gain when you conduct a comprehensive content audit.
Improve organic traffic
A content audit helps you identify those small changes that will have a big impact. Even for a site with hundreds of pages, it's not uncommon to have significant traffic increases by optimizing a few of them. With Filestack, we optimized less than 20% of their total content.
Make your content relevant
During a content audit, you'll review everything you've ever posted on your website to ensure it remains relevant for your current audience. Perhaps there's a new development in the industry. Or some of the tactics or tools you published are no longer in use at that point. A content audit lets you update and improve old content, thereby staying current with your industry's trends.
Prevent content cannibalization
When you have multiple pieces of similar content on your website, you have a content cannibalization problem. This may negatively affect your ranking on search engines because internal URLs will be competing against each other. If you are already making this mistake, you'll spot it during a content audit. And if you're not, you can ensure that your content calendar does not include posts similar to those already on the website.
For example, if you run a personal finance website, you might notice that you have three separate posts all focusing on "how to check your credit score." You can use a content audit as an opportunity to find issues like this to prevent cannibalization.
Determine what new content to create
A content audit helps you find what topics your audience is interested in the most (and least). Finding the pages that are driving the majority of the traffic can shape your future content strategy.
How to do a content audit in 3 steps
Below is a step-by-step breakdown of how to do a content audit. Before going further, you will need access to the following.
The overall technique can be summarized as follows: We'll export data from each of these sources and then paste the data into a spreadsheet which will help us make decisions about what to do with each page of our website.
So let's dive in!
1. Create a content inventory
First, make a copy of this inventory template, which we've adapted from one created by Traffic Think Tank (a community of talented search engine professionals, highly recommended!)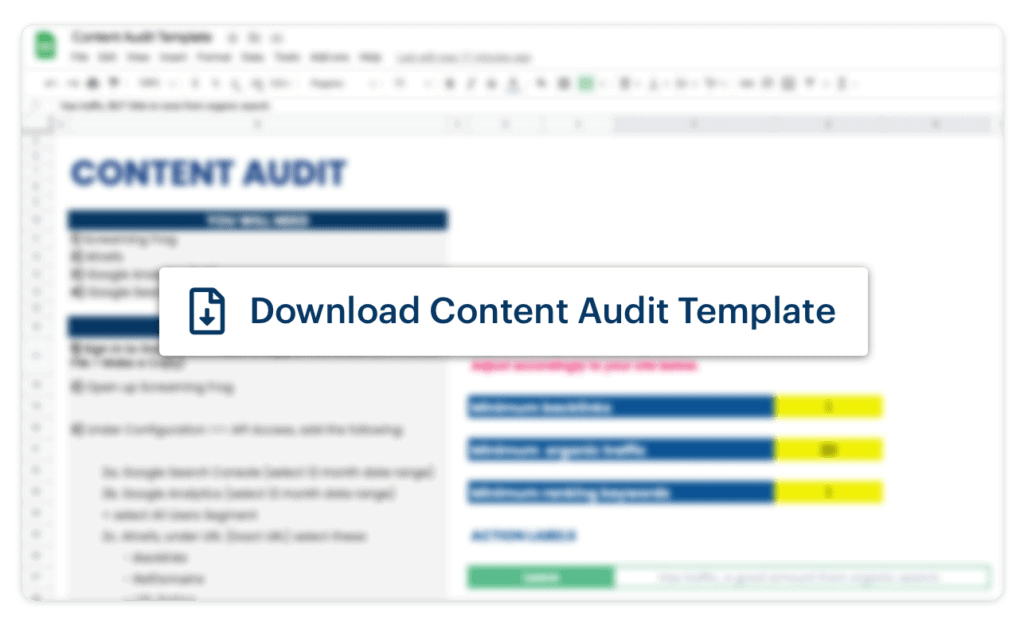 Once you have downloaded the template, you'll see 3 tabs at the bottom.
We'll export data from Screaming Frog and Ahrefs into the last 3 tabs, and then examine the results in the Audit tab.
Next, install and open Screaming Frog. The first thing we need to do is to connect Screaming Frog to Google Analytics, Google Search Console, and Ahrefs. You'll be able to do so by going to Configuration -> API Access in the menu bar and opening up each service.
The Google Analytics and Google Search Console configurations are relatively straightforward. You'll connect the properties that match the site you are auditing.
However, for the Ahrefs configuration, you will need to go to the "Metrics" tab and enable the "Keywords" metric.
Once all the services are connected, we are ready to start crawling the site. Just hit "Start" and the program will begin to examine every page of your site, while also pulling in data from the services that we just connected. If you have hundreds of pages, this may take a couple minutes or more.
Then, export the data and paste it into the "screaming-frog-data" tab.
We'll repeat this process to fill out the "screaming-frog-organic" tab of the audit sheet, but this time we will:
Disconnect Ahrefs and Google Search Console
Change the Google Analytics segment to "Organic Traffic"
Once you have done those things, re-run the crawl, export the data, and paste it into the "screaming-frog-organic" tab of the audit spreadsheet.
Finally, we populate the last tab of the spreadsheet, "ahrefs-top-pages". To do this, go to ahrefs "Site Explorer", enter the site, go to "Top pages" in the left sidebar, and then export the data.

Then paste the data into the "ahrefs-top-pages" tab of the spreadsheet.
Once the data is in there, the "Audit" tab of the spreadsheet will have a list of all of the pages of your site that will look like this:
The pages are put into the following categories:
Leave
Pages that have backlinks and organic traffic. But just because the label says "Leave" doesn't mean that there aren't opportunities to optimize these. It just means that they aren't the weakest pages on your site.
Redirect/Update
Pages that have backlinks but have no traffic yet. You want to keep these pages because the backlinks to them are valuable for your site's authority. Redirect the pages to maintain the authority, or update the page to try to increase its traffic.
Manually review
Pages that have traffic, but little to none from organic search. This could indicate that the content is being used in another channel, like social media or email, but that it doesn't have any search traction. If the content isn't intended for search, then no action is required, but if it could be valuable to your search audience, then these pages should be optimized.
Delete
Pages that have no traffic or backlinks. This content never got any traction and add no value to the site. For sites with thousands of pages, you should delete these pages as they can consume your crawl budget, preventing Google from indexing other more valuable pages.
Now that we've categorized our pages, the next step is to take action on them.
2. Optimize underperforming pages
First, you want to examine the pages in the "Leave", "Redirect/Update", and "Manually review" categories, so hide the pages that are marked "Delete", then sort them by volume to look at the most popular pages first.
For each page, you want to develop a list of improvement opportunities. Some of these will be specific to the page, and others will be site-wide. Here are three questions to get you started in finding these opportunities:
Is this content solving a problem for my audience? (Search Intent)
The search performance and keywords an article is ranking for can give you major clues as to whether any given page is successful or not. Google is constantly looking for articles that provide valuable information to readers, and if a page is not getting the traffic that you expected, then it's likely that the content is not solving the problem that your audience was looking to solve.
This concept of what a searcher is looking to do when they type in a query is encapsulated in a term called "search intent". And the best way to find the search intent is to take a look at the current top results.
For each page, take a look at the results for the top keyword and see whether your content satisfies the search intent. For example, say you were targeting "mac and cheese recipes", and all of the top results focused on "easy", "weeknight", or "simple". If your content was an elaborate and complex recipe, then it wouldn't be solving the primary search intent which is to make a quick and easy meal.
Is this content engaging? (Content Quality)
Another key factor in a page's performance is how engaging it is. There are a variety of qualitative elements that all play into this, but
Above the Fold Experience
Research shows that the typical website visitor spends just seconds on a page before deciding whether or not to keep reading. And when they stop reading and "bounce" out, Google ranks content lower. That's why it's critical to optimize the experience of a user when they first land on the site, and what they see "above the fold".
Video and Audio
Besides bounce rate, another crucial metric that Google uses is time on site. And nothing keeps someone on a site longer than an engaging video that explains the content of a site in an entertaining way. For particularly important pages, we recommend creating videos that are placed above the fold to give the visitor multiple ways of consuming content.
UX and Design
Although hard to measure, it's easy to underestimate the importance of good design as a part of SEO. Layouts should help the reader get to the information they need. Type should be professional and easy to read. Intrusive UI elements such as pop-ups, display ads, or autoplaying videos should be used sparingly.
EAT Signals
EAT stands for "Expertise, Authority, Trust", and these are signals that readers use to understand how trustworthy a site is. For example, an important EAT signal on a site on medical information would be whether or not the page has been reviewed by a certified physician.
Is Google able to find my content? (Technical Evaluation)
The final question is whether your page is optimized from a technical perspective, making it discoverable by Google.
URL structure
Search engines need to understand how your URLs are structured in order to see which keywords are being used. For example, if your existing URL is "5tipsforimprovingseo", then search engines won't know what the post is about. You'll want to use hyphens to separate words.
Title tag
The <title> tag lets search engine crawlers see which keywords are being used in the post. With the <title> tag, using the right selection of keywords can help improve your chances of getting ranked. During your audit, you'll want to ensure each piece of content has an associated <title> tag using the keyword you want to focus on.
Meta description
When a user searches for something, the meta description appears directly below the page title. You can think of it as a sneak-peak of your post, to give readers an idea of what the post is about. If you get high click-through rates, that signals to search engines that the post is good and can improve search rankings. During your audit, you want to ensure your posts have meta descriptions. If they don't, look for opportunities to add descriptions or update existing descriptions.
External links
External links point to a domain that isn't your company's domain. Using external links in your content helps search engines understand your niche.
Linking to broken links can negatively affect search performance. During the content audit, keep an eye out for any broken links that your content is pointing to. You can use this as an opportunity to link to fresher pieces of content.
Internal Links
Internal links are links that point to other content on your website, usually related to the content being read. Search engines use internal links to understand the connection between web pages and to determine the similarity between content.
During the audit, you'll want to catalog your internal linking opportunities. By linking newer content to your existing content, you can drastically improve the search performance of your pages.
3. Delete useless pages
The final step in a content audit is to remove any pages that are not adding any value. The content audit spreadsheet lists these as "Delete" and defines them as pages that do not have any backlinks or organic traffic.
For large sites of 1000+ pages, deleting useless pages can have a positive impact on overall search performance. This is because Google defines a "crawl budget" for any given site, which is the maximum number of pages it will crawl and index. Useless pages consume the crawl budget and keep other more valuable pages from being indexed.
Keep in mind that you will want to evaluate these pages individually because sometimes they serve a purpose in non-organic channels. For example, a piece of content that is only used in an email drip campaign.
What to do after the content audit is done
In addition to the audit itself, there are a few key follow-up actions to take afterwards:
Create new content
Asides from optimizing the existing content, you'll need to come up with fresh posts to generate more organic search traffic. Identifying content gaps in your inventory and creating new content around those topics will help you boost your topical authority which is a critical factor in search engine rankings.
Regularly creating new posts optimized to rank on search engines will increase the potential of crawlers to identify your URLs. Furthermore, you'll get better at building quality backlinks and generally giving your audience the posts they crave.
Track and measure your results
Tracking and measuring results lets you know if the effort and resources you put into the audit is worth it. You can measure your results by pulling Google Search Console data and comparing the current performance to your pre-audit results. You should also review relevant metrics such as page speed, bounce rate, quality of inbound links, etc. The result should show a clear improvement in the depth of your content asset, and subsequently, your search engine rankings.
To make content optimization easier, use a tool like Topic. Our software makes it easy for businesses to improve the content in half the time it would take using traditional methods.
Here's how Topic makes content optimization easier:
Consolidate Your Research
Enter the focus keyword for your post and using the top 30 results in Google, we'll find what headings, questions, and keywords you should include.
Rapidly Build an Outline
Use Topic's Outline Builder to curate the research into a comprehensive outline. Need a creative assist? Our AI comes up with new ideas for you.
Optimize Before Publishing
Use Topic's Content Grader to quickly see what your draft is missing. Create a feedback loop that ensures that every article covers what your audience is searching for.
Helpful tools for content audits
Running a content audit can be done through spreadsheets and manual work. However, we recommend working with the tools below to speed up the audit process:
Ahrefs
Ahrefs is one of the most popular tools for SEO and backlink analysis. Their software makes it easy to manage keyword research, existing and potential backlink opportunities, tracking existing search ranks, and much more.
SEMrush
Although we used Ahrefs for the audit template, another alternative worth mentioning is SEMrush. Compared to Ahrefs, it has a larger suite of tools, but each tool is of lesser quality (both in terms of data and user experience). Between the two, I find that Ahrefs is used more by the professional SEO and SEMrush is more popular with the digital marketer generalist.
Further Reading: 10 Free and Paid SEMrush Alternatives To Consider.
Screaming Frog
Screaming Frog is an industry-leading website crawler. Their SEO Spider tool crawls your site in the same way that Google does, making it easy to get a snapshot of all of the pages of your site and identify the most common technical issues. It's a great starting point for understanding your site as a whole.
Conclusion
Now that you know about the benefits of content audits and how to conduct one, we hope you'll be confident enough to try your knowledge on your website. However, you must know that a content audit shouldn't be a once-in-a-blue-moon process.
Instead, it should be a periodic process that you'll regularly apply on your website as well as other marketing channels. This ensures subsequent audits are not overly tasking or time-consuming, and you can quickly achieve your content marketing goals.
To get started with content optimization today, start using Topic by clicking the button below:
[sc name="cta-demo-request" ]