TABLE OF CONTENTS
How does Topic differ from MarketMuse?
Why Topic is a Better than MarketMuse?
GPT-3 Powered Headline & Outline Generation
Compare MarketMuse and Topic Features
WordPress Table of Contents by Topic
Content briefing tools have become a part of every content team's toolkit. It's easy to see why they are so popular — they help businesses streamline their content efforts and make it easier to produce the high-quality content their audience is searching for.
Back in 2016, MarketMuse was one of the first companies in the space. After years of iteration, they're now a robust SEO Content Strategy platform.
But is MarketMuse really the best content briefs and optimization tool around? Or are there other options you should consider? In this post, we'll take a look at MarketMuse and see how it compares with Topic.
What is Topic?
Topic is an SEO content tool that helps you create A++ quality content for your search audience. We do that by:
Automating the research required to produce high-quality content briefs
Optimizing your first draft to ensure you've covered a given topic comprehensively
As a result, you can produce better content faster and easily scale content efforts as your business grows. In fact, optimizing a piece of content with Topic can increase clicks from organic search.
How does Topic differ from MarketMuse?
At Topic, we focus on solving just one problem – streamlining your content production workflow through content briefs and content optimization.
On the other hand, Marketmuse tackles a broader problem. Their core focus is automating content strategy through AI. Hence, Marketmuse is a better fit for teams looking for help with their content strategy, while Topic is a better fit for teams looking to streamline their content production via content briefs and grading.
Why Topic is a Better Choice than MarketMuse for Content Teams
MarketMuse is a powerful tool; there's no doubt about it. However, it's not the right tool for every business. Larger businesses with a bigger budget that need help with strategy may find MarketMuse fits their needs.
Topic, on the other hand, is ideal for businesses looking to immediately scale or streamline their content needs. If you want to produce better content in less time, Topic is the right tool for you. Here's a few reasons why Topic is a better option.
Faster Adoption Rates
Topic focuses on just one problem, which means we were able to design a simple, straightforward interface. This helps increase adoption rates within your team, so you can make the most of the tool.
Given Marketmuse's focus on a wide variety of features, it can be quite tricky to navigate their platform without a couple of training sessions. Which means your team may be less likely to adopt it.
Easier Collaboration
Topic makes it easy to collaborate with your writers by sharing content briefs with your writers without having to set up individual accounts for them. (Think of Google Docs' public sharing functionality.)
Plus, Topic integrates with Google Docs and WordPress so your writers can get a real time grade of their draft as they write. In MarketMuse, the collaboration functionality is reserved for higher plans (starting at $499), and they don't integrate with Google Docs or WordPress.
Straightforward Pricing Structure
Topic's pricing is easier to understand because it's based on the number of content briefs you create. That's it.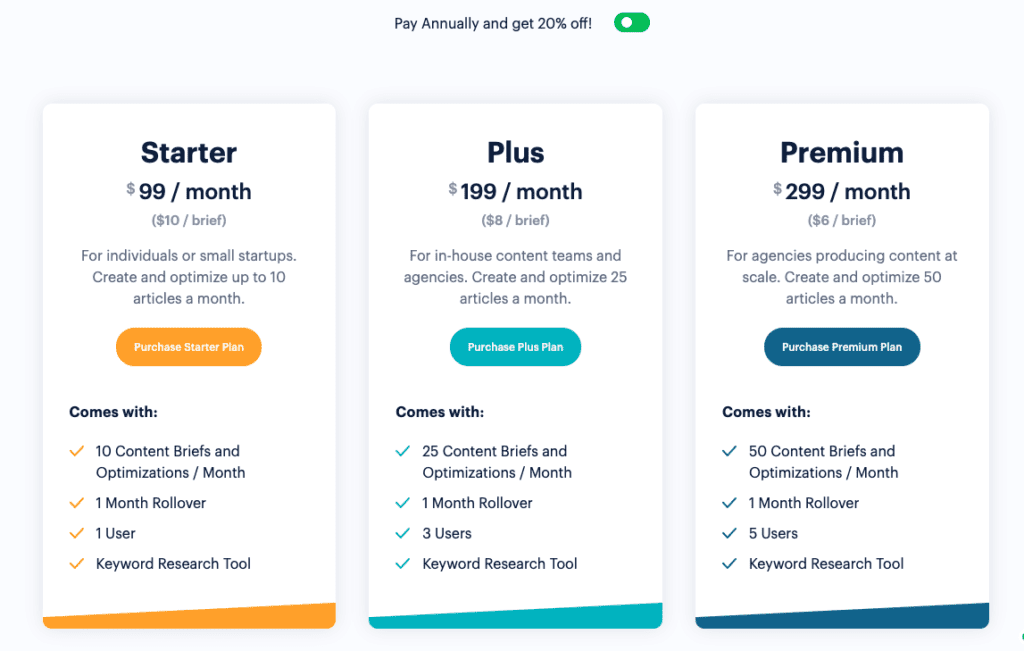 Plus, every content brief comes with a content grader to help you optimize your drafts.
MarketMuse's pricing is harder to understand(see the screenshot below). What's a query vs a credit? What's an application? The world may never know unless you dive deeper into their support docs
.
Although Marketmuse's pricing seems to be competitive, the devil is always in the details. Consider the following example – let's say I need to optimize 10 articles. With Topic, you can quickly create a content brief for those 10 articles and you get everything you need to optimize the article. No upgrade prompts. No hidden costs.
The same process is not so straightforward in Marketmuse. You need to run multiple queries to optimize a single article, at which point you end paying more than what you signed up for.
Now when it comes to generating content briefs, it's a whole separate (and expensive) workflow. Their content briefs can be as high as $100 vs $6-$10 with Topic.
GPT-3 Powered Headline & Outline Generation
Struggling to come up with a headline for your next article? Topic's AI helps you come up with interesting titles and descriptions as a part of your content brief creation.
You give us a keyword, we analyze top articles, understand different user personas and generate different angles you can use to create content. Here's a screenshot of headline generated by our GPT-3 integration.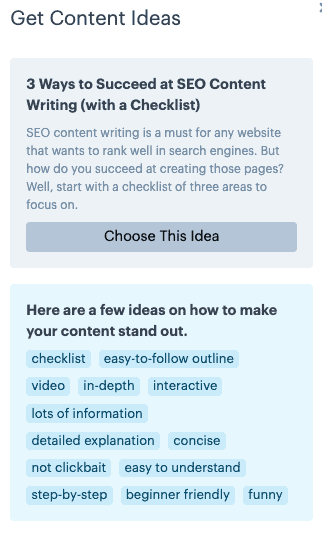 Topic also takes it a step further and generates an outline. Here's the outline generated by GPT-3 for the same topic of SEO Content writing. You can use this as a good starting point and build a more robust outline.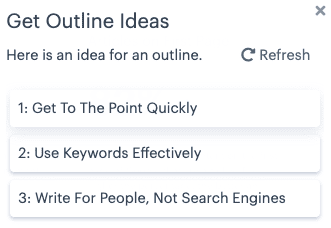 Compare MarketMuse and Topic Features
MarketMuse has a robust feature set that gives you what you need for your content efforts. Topic offers those same features – and more. Here's how MarketMuse and Topic's features compare:
| | | |
| --- | --- | --- |
| Feature | Topic | MarketMuse |
| Content Research | ✓ | ✓ |
| Competitor Outlines | ✓ | X |
| Outline Builder | ✓ | ✓ |
| Questions To Answer | ✓ | (Only available in their Higher Plans) |
| Outline Idea Generation | ✓ | X |
| Competitive Analysis | ✓ | ✓ |
| Topics To Cover | ✓ | ✓ |
| Content Grader | ✓ | ✓ |
| Google Docs Extension | ✓ | X |
| Share Functionality | ✓ | X |
| Keyword Research | ✓ | ✓ |
Join other top marketers who use Topic to write better content