TABLE OF CONTENTS
What is an SEO Content Brief?
What Are The Benefits of SEO Content Briefs?
Reduce Content Production Costs
Increase Consistency Among Writers
Improve Content's Search Rankings
What Does an SEO Content Brief Include?
3 Tools to Speed Up SEO Content Brief Creation
WordPress Table of Contents by Topic
Are you an SEO strategist or a content marketer managing multiple writers? Are you disappointed by lackluster first drafts from your writers?
The issue might not be your writers — it might be your content briefs.
The key to better content is to provide writers with a well-researched, SEO-focused content brief so they have the information they need to create top-notch content.
A content brief improves writers' ability to produce high-quality content while eliminating hours of revision. At Topic, we've seen hundreds of agencies and content editors create content briefs for their writers — and we know exactly what it takes to create a fantastic SEO content brief.
In this article, we'll show you how to efficiently create content briefs to help you streamline your content workflow and improve your content. We'll even share a content template that will make the process even easier.
What is an SEO Content Brief?
An SEO content brief is an editorial document that helps you, your clients (if you are an agency), and the content writer clearly understand what you want from your content and how you want it done.
If the content brief is primarily created for a piece of content to rank for a specific query, it becomes an SEO-focused content brief.
These briefs are created before the content is produced and generally include the primary keyword, word count, target persona, brand's voice and tone, headings, questions to answer, and subtopics.
What Are The Benefits of SEO Content Briefs?
Your goal is to streamline your content process, right? So why would you want to add another step to the process?
Content briefs actually save you time, money, and improve your content. Here are the four main benefits of creating an SEO content brief.
Reduce Content Production Costs
If you hand over a topic to your writer without a content brief, they may end up sending back a draft that is totally out of sync with your expectations. And that means extra time and money spent on fixing a weak draft.
Just like having a blueprint saves time while building a house, starting with a brief reduces revisions and ensures your content covers the key points.
Increase Consistency Among Writers
When it comes to building trust with clients and your audience, it's essential to deliver consistently good content.
However, managing a large content team means working with writers with varying levels of skill and expertise. Using a content brief enables less experienced writers to produce content at a higher level, keeps your brand voice constant, and sets a consistent standard for your brand.
Improve Content's Search Rankings
SEO content is often pitched as a long-term bet. It's expensive, but it yields dividends in the long run. But what if those returns don't materialize? Content briefs reduce those risks by helping you create content that caters to your audience (and Google).
If you are scaling your content production and are working with multiple writers, you can't solely rely on writers to do research or understand complex SEO optimization requirements – especially if they are new and don't have a deep understanding of the topic.
Initially, I'd recommend doing the research yourself. Once your writer gets up to speed with your business and your topic domain, you can delegate this work to your writer. However, always review the outline before they proceed to write the content.
Hit Delivery Deadlines
The content briefing process can both minimize errors and improve your overall content writing efficiency.
Your writers will be able to turn around drafts faster, hence bringing more predictability to your entire content creation process. You can schedule and launch your content promotion campaigns ahead of time and be on track to hit your business objectives.
What Does an SEO Content Brief Include?
An SEO content brief covers more than just the topic, research, and key points; it also outlines SEO information the writer needs to create highly-targeted content that solves your audience's problems.
Here are the key features your SEO content brief should cover:
Primary Keyword
One of the primary goals of SEO content is to rank on search engines and drive more traffic. If you do not have a keyword yet, I'd recommend reading this article on keyword research.
In addition to the primary keyword, you should also include secondary long-tail keywords, which are closely related to your primary keyword. They play a supporting role in helping you rank for a wide variety of search terms. Here's a good article on how to use secondary keywords within your article.
One caveat here: Don't obsess over picking secondary keywords. Google's BERT update allows the search engine to understand the semantics of a search query and deliver relevant results even if they aren't a perfect match. In a nutshell, pick one primary keyword and a few variants of your primary keyword.
Target Audience
Who is your content for? You might have this information already through a marketing buyer persona or website data. I also suggest searching the primary keyword on Google to see who the current results target.
For example, if you are creating content for the keyword 'seo content,' a quick google search shows you the majority of content is written for beginners trying to learn about how to create SEO content.
Now let's consider a different keyword – 'SEO content briefs.' The target audience for this keyword is more experienced and could range from an SEO strategist to a Marketing Manager who's just kicking off their SEO content program.
Identifying the target audience helps your writer better understand their pain points and produce content that resonates with them.
Format
What type of content do you want to produce? Different formats — such as a listicle or a white paper — will require a different approach.
The most common types of content include:
Listicles (list-type pages)
Pillar pages
How-to articles
Guides
Infographics
Tool or resource round ups
Case studies
To identify the format, type in the keyword in Google, look at the top-ranking pages.
If the search engine results are in listicle format, like below, then I'd create a list type blog post for this keyword.
If the results include a mixture of how-to articles and guides, like for the query below, then I'd consider creating a pillar page article for the keyword.
Keep in mind, this is a general recommendation. Always experiment with different types of content to see what works, especially when the results are a mixed bag.
Brand Voice and Writing Style
Have you ever noticed that big brands always sound the same? Even if they use dozens of writers, you can often recognize their writing based on their style, word choice, and whether they include funny memes or have a more professional style.
With a content brief, you can link to your brand's style guide and add any editorial resources you have to ensure your writers are able to write the content to match your brand standards.
You should also include examples of previously published content so writers can see your brand style in action.
Consider using tools like Grammarly to ensure your writer is sticking to your brand voice and writing style.
Suggested Word Count
One of the most-asked questions we get is, "How long should my blog post be?" It's a good question. The answer is always going to be "it depends."
According to this article published in Hubspot, a 'pillar page' should be around 4000 words. 'Listicles' should be around 2300 – 2600 words. 'How to' type blog posts should be around 1700 words. 'What is' type blog posts should be between 1300 to 1700 words.
I also recommend taking a look at the word count of the search engine results to get a word count estimate. Install the keyword surfer chrome extension, type in the search query in Google, and you should see the word count next to the article as shown below.
Look at the top 10 results, eliminate outliers — especially sites like Wikipedia or forums (if applicable). Then pick a word count that falls within the top three word count range.
Word count helps you to estimate the article cost, especially if you're paying your writers by the word. So it's important to do your research before sending off a request to your writer.
Article Outline
The article outline is perhaps the most essential part of the content brief. The outline should have the following sections:
Working title, including the main key term
Subheadings (H1, H2, H3, etc), that outlines the topics the writer should cover and long-tail key terms to target.
Takeaways under each heading to ensure that the writer covers key information that the reader needs to know. If a writer is not given this information and lacks expertise, then there's a good chance that the resulting paragraphs will either be off-topic or contain fluff.
Here's a five-step checklist for creating a high-quality outline:
Type in the primary keyword in google and look at the search engine result pages.
Understand the search intent behind the query.
Examine the top ten articles.
Find the most common headings, subtopics, and questions your competitors' content answers. This will give you an idea of what you need to cover and how to structure your outline.
Use tools like Answer the Public, Quora, or People Also Ask to find more questions related to the keyword.
Now that you have a decent understanding of your competition, it's time to brainstorm how your content will stand out. Ask yourself the following questions:
a) Do I have access to any unique insights about the topic either through your personal experience or through your product usage data?
b) Can I create additional assets like infographics or a video to explain the topic better?
c) Can I source quotes from experts to feature them in the article?
Once you have done all the research listed above, you can use Google Docs to put together the outline and share it with your writer.
Don't have time to create an outline? Tools like Topic can help automate some of the steps listed above.
Competitor Examples
In a content brief, competitors refer to the articles that are already ranking for the keyword you are targeting. You should include a couple of examples to help the writer understand who they are going up against.
Here's my process to identify good competitor examples:
Use a tool like Ahrefs or SEMRush to pull up the articles ranking on the first page as well as their respective Domain Authorities.
Then, find the articles with the lowest authority. Typically these articles are particularly engaging, which is why Google has ranked them higher than other more authoritative sites.
Open each article to find out why they might be ranking higher. For example, it could be that they have a catchier title, or their content covers the topic in more detail. I note my findings down in the brief so that they can be incorporated into my own content.
If you are using a content optimization tool like Topic, you should also add articles with a high content grade to your list. These are the articles that have covered a given topic really well, so they can be a good reference point for your writers.
External Links
External links are links to other websites or resources. You need to add external links when you mention statistics in your article or when discussing topics that your readers may not be familiar with.
External links are important for two reasons –
1) It establishes trust, since your facts are backed by hard evidence. From Google's standpoint, external links establish credibility, especially if you use statistics or quote other people.
2) By sharing links to other resources that your reader might find useful, you are also improving your overall reader's experience.
So how do you find external links? Start with the competitor articles. Identify interesting statistics or any studies cited in the competitor's content. Verify if these studies are from credible sources. Sources like .gov, .edu, or any research-related top-level domains are usually credible. You can also look at their domain authority to get an idea of their credibility.
Don't spend a lot of time looking for external linking opportunities during this stage, make a quick list, and instruct the writer to cite sources as they write the content. Note: Avoid linking to any articles that are competing for the same key terms — those are competitors you'll want to use for research.
Sub-Topics
In order to surface the best results, Google's algorithm relies on an understanding of the web of relationships between any given topic and all of the related subtopics. You can produce higher-ranking content if you include information on related subtopics.
For example, if you search for home gym equipment, Google is now able to identify different subtopics like budget equipment, small spaces, or premium prices.
If you want your content to rank well, ensure writers cover several subtopics in depth. Identifying subtopics manually can be a daunting task, since you may have to sift through a lot of articles and run some basic statistical analysis to find the most relevant subtopics. Tools like Topic or Marketmuse can make the task easier in identifying relevant subtopics for a given topic.
3 Tools to Speed Up SEO Content Brief Creation
If you want to assemble a detailed content brief, you need to schedule at least an hour to create a well-researched brief.
If you're only producing a couple of articles per month and have a thorough knowledge of a given topic, you should be able to create content briefs manually.
However, as you scale, the manual process can become too time-consuming and limiting.
Luckily, there are a few tools that can help speed up the process:
1) Topic

Topic is an SEO content brief tool that automates the research required to create a high-quality content brief.
Key features of Topic
Topic analyzes top results for a given keyword and generates a research document that includes headings, questions, and subtopics. You can curate this research into a comprehensive outline using Topic's outline builder functionality.
Topic integrates with GPT-3, an advanced AI system to generate page titles, descriptions, and outlines for your blog post.
Topic's content optimizer grades your content to ensure your article has covered everything.
A handy keyword research tool that can help you understand the search volume and intent for any given query.
Pricing: Flexible pricing. $6-$10 per content brief. Every content brief includes all the features list above. Best for content teams or agencies who are focussed on producing high quality content.
2) Marketmuse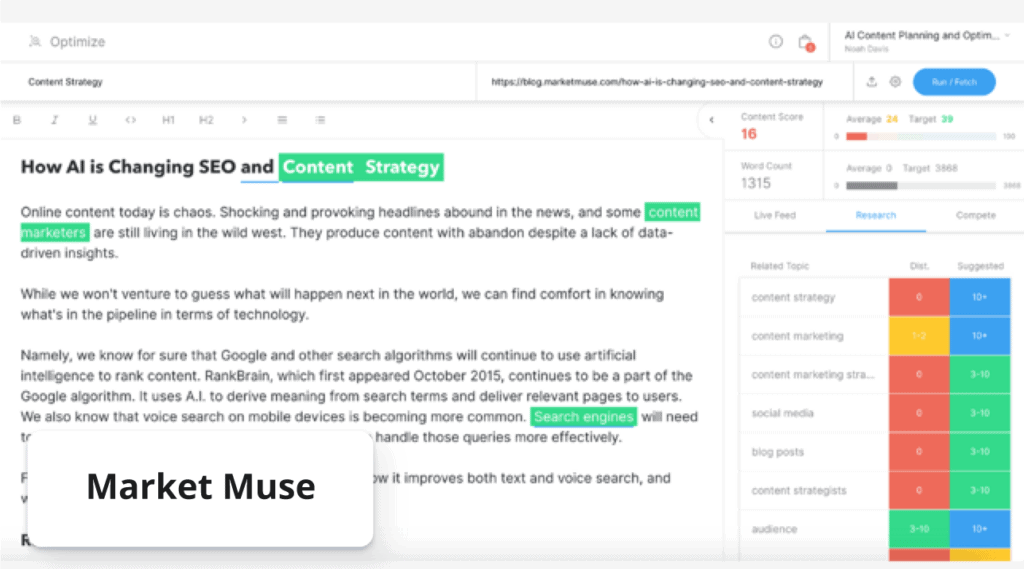 Marketmuse is an enterprise content strategy and intelligence platform. Content briefs is one of the features they support.
Key features of Marketmuse
Marketmuse surfaces Headings, Subtopics, Questions to help you build your content brief.
Content Inventory to help you manage your content library. You can quickly identify pages that need optimization with their proprietary scoring algorithm.
Content scoring system to grade your content before publishing
Pricing: $100 per content brief. Content Inventory is only available on their higher plans. Best for enterprise content teams who don't have an in-house SEO expert or looking for help with their entire content strategy.
3) Frase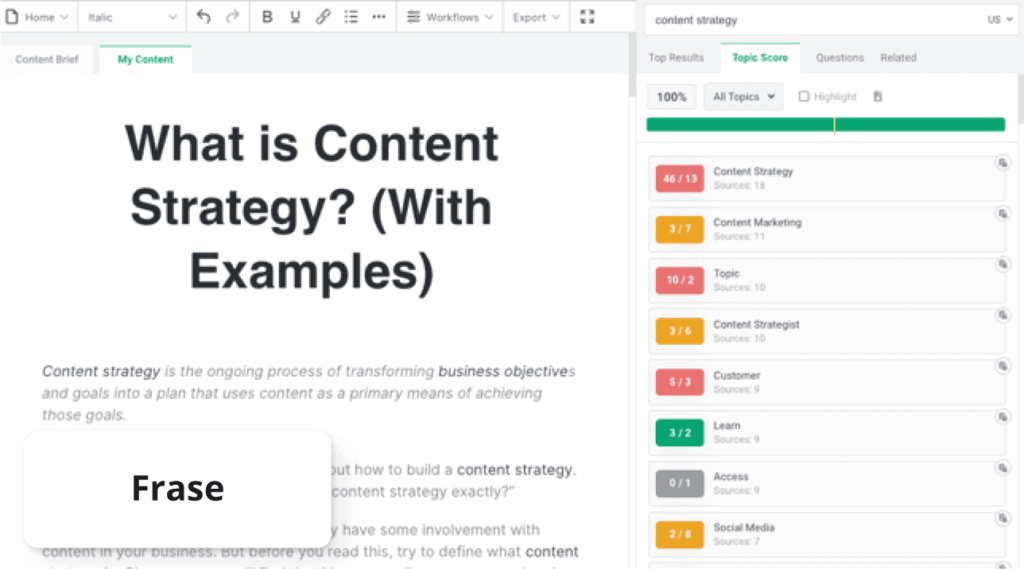 Frase is a content answer engine platform. Their specialty lies in answering questions your visitors might have through their chatbot integration. Having said that, they also have a content brief product that can help you build briefs quickly.
Key features of Frase
AI Answer Engine Chatbot to help answer questions your visitors may have. It uses your content library to find answers to the questions your visitors are asking.
Frase surfaces Headings, Subtopics, Questions to help build your content brief.
Content Scoring system to grade content before publishing.
Note – Frase can output a huge list of subtopics – usually more than a hundred. You need to manually sift through the list to ensure that they are relevant. Failing to do so can make your writer jam all the subtopics in the article, leading to a poor experience for your reader and also an increase in writing costs.
Pricing: $45 per month for 30 documents. Best for bloggers and freelancers who are tight on budget and have the extra time to manually curate the subtopics list.
Final Thoughts
With the strategies and tools listed above, you now have the superpowers to not just manage your writers effectively but also create content that can truly resonate with your readers (and Google!). We've also created a super handy content brief template you can use to get started. Happy briefing!
Join other top marketers who use Topic to write better content