TABLE OF CONTENTS
What is SEO content analysis?
Top 8 SEO content analysis tools
Analyze content performance
Optimize new and existing content
Identify technical SEO issues
Use content analysis tools to improve content quality
WordPress Table of Contents by Topic
Have you ever created a piece of content and thought how perfect it is only to hit 'publish' and hear crickets?
That must be disappointing.
Your content isn't ranking for the target keywords or attracting the right traffic. Something is wrong but you're unable to put a finger on it.
Using a content analysis tool can help you avoid that.
What is SEO content analysis?
It's established that creating quality content is an important aspect of SEO. It's the content you create that helps your website rank, get traffic, engage website visitors, and drive conversions.
But with so much emphasis on content, why is it that 90.63% of content gets no traffic from Google?
There can be many reasons behind this ranging from poor keyword targeting and technical SEO issues to boring content and absence of backlinks. The most effective way to avoid being in the 90.63% is to do SEO content analysis. 
It involves analyzing (new and existing) website content to determine the quality and identify gaps, helping you better optimize it for SEO and create content that ranks well.
Content analysis takes the following factors into account:
Keyword ranking potential
Search intent relevance
On-page SEO optimization
Technical SEO
Content comprehensiveness
Competitor analysis
The goal is to create useful, engaging, and relevant content — doing an SEO content analysis takes you one step closer to that.
Top 8 SEO content analysis tools to check content quality
The good news is that there are many tools you can use to analyze content quality and improve optimization. Content analysis tools can be used while:
Creating content from scratch
Optimizing existing content assets to improve performance
We've rounded up the eight best SEO content analysis tools along with what they're best for.
Analyze content performance
You can write the most well-researched and comprehensive blog post but if it's not driving traffic or conversions, none of it matters.
Creating effective content begins with measuring and analyzing performance on a regular basis. This will help you gain audience insights and improve your content strategy.
Here are two tools you can use to analyze content performance:
Google Search Console
Price: Free
Google Search Console is a free platform that lets you monitor and improve your website's performance — from the content and technical SEO standpoints.
This search engine-focused tool tells you how Google (and users) view your website, helping you boost organic search visibility.
On the Google Search Console dashboard, click on 'Performance' to view the performance report which gives you access to four key metrics:
Impressions: number of times your website appeared in a search result
Clicks: number of times people clicked on your website in a search result
Click-through rates (CTR): the percentage of impressions that resulted in a click
Average position: the average position of your website in a search result
For example, let's say using Google Search Console you come across a page that has a high number of impressions but very less clicks. This means that your page is ranking well and has the potential to attract traffic. 
The next step would be to optimize elements such as the title and meta description so that it encourages people to click on your website in the search results.
Google Analytics
Price: Free
Google Analytics is another free content analysis tool you can use. What's the difference between Google Search Console and Google Analytics, you ask?
While the former is more focused on search engine visibility, the latter is user-oriented which means it tells you how website visitors interact with your website.
You can use Google Analytics to measure:
Pageviews: total number of pages viewed
Users: number of unique website visitors
New vs returning visitors: compare returning website visitors to new ones
Average time on page: how much time people spend on your page
Bounce rate: percentage of visitors who visit only one page on your website before leaving
Traffic sources: where does your website traffic come from (organic, email, social, etc.)
You can also view your top-performing content and the search terms people use to find your website to inspire your content strategy.

Pro tip: Moz has an interesting hack when it comes to analyzing content performance. They suggest grouping content into common themes to understand which topics resonate most with your readers (and which don't).
Look at this example. Clearly, content related to 'WordPress' is performing better. 
Optimize new and existing content
Content optimization is an integral part of the analysis. It involves preparing your content for search so that it ranks well and is easily found by your target audience.
But content optimization isn't a step you take while creating new content only. According to HubSpot, optimizing and republishing old content can boost organic traffic by 106%. 
Here are some tools you can use to optimize new and existing content:
Topic
Price: Starts at $99/month
From doing keyword research and analyzing competitor websites to understanding search intent and writing engaging content, there's much you're expected to do while creating content. 
What if we told you there's a tool that combines all this (and more)?
Topic is an AI-based content analysis tool that helps you create optimized content for search. It's quick, easy, and cost-effective. 
Enter your target keyword. Our AI will identify gaps in your draft and suggest sub-topics you can cover to rank higher for your target keyword. These recommendations are compiled after analyzing top-ranking content, competitor websites, and commonly asked questions. 
Unlike other AI tools, Topic doesn't just present the sub-topics you need to cover. It groups them by semantic similarity. This makes it easier for you to turn them into meaningful outlines.
Another useful feature: Content Grader. It grades your content in real-time so you can publish your article confidently and have it appear on the first search engine results page.
Don't believe us? Take customer feedback software, Qualaroo for instance. They optimized a content piece using Topic. Their clicks from organic search increased by 540 in one month.
This traffic was equivalent to $15,000 a year on AdWords: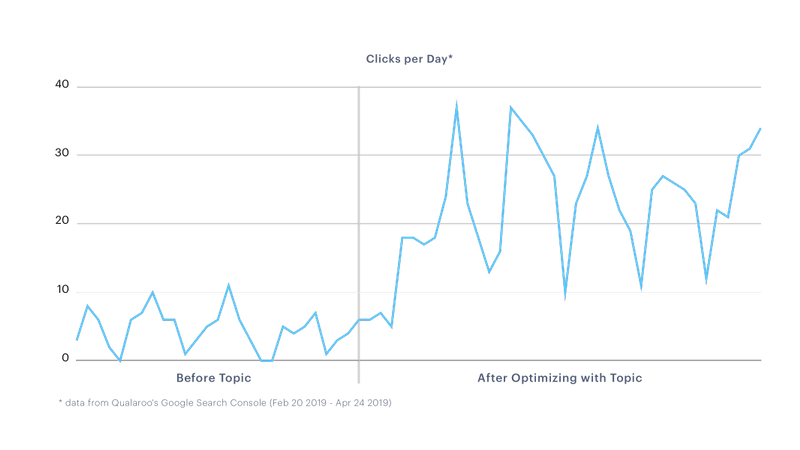 Yoast SEO
Price: Free
Content optimization and SEO go hand-in-hand. You need both to rank well on search engines and get found easily.
One of the most effective ways to optimize your content for SEO before publishing is by using Yoast SEO.
As a WordPress user, you can install and configure the Yoast plugin. After that, you will be able to view the meta box on the content creation page.
Yoast SEO analyzes content on two levels:
'Readability' determines how readable your blog post is. The idea is to encourage writers to simplify their grammar and writing, making it easy to grasp and understand.
'SEO' makes sure your content meets the highest standards of SEO writing. You'll have to set the focus keyphrase which is the search term you want your article to rank for. 
On the basis of that, Yoast SEO will analyze your content against the following parameters:
Keyphrase in the title, introduction, subheading, metadata, and slug
Images
Image keyphrase
Outbound links
Internal links
Keyphrase length
Keyphrase density
Text length
This tool uses red, orange, and green bullets to immediately tell you where your content stands along with a tip to improve optimization.
Do competitive analysis
Ever looked at a competitor's website and wondered, "How do they manage to do XYZ?"
No analysis is complete without analyzing the competition. The same holds true for content analysis. Here's a tool you can use to do competitive analysis, gather valuable insights, and identify gaps.
Ahrefs
Price: Starts at $99/month
One of the (many) things Ahrefs is good for is competitive analysis.
You can use Ahrefs' Keyword Explorer to understand the competitive landscape and inspire your content creation. 
For instance, let's say you want to rank for the keyword 'remote work productivity'. Enter this keyword in the search bar and scroll down to get a SERP overview. You can analyze all the articles that rank on the first page and use that information to plan your article.
Another way to use Ahrefs for competitive analysis is by using Content Gap. This tool shows keywords your competitors rank for but you don't. This is a good way to get topic ideas.
This is what the tool looks like:


Under 'Show keywords that the below targets rank for', enter at least three competitors' domains. Enter your domain under 'But the following target doesn't rank for' and click 'Show keywords'.
The tool will present a list of keywords that you don't rank for. 
Identify technical SEO issues
Many of us make the mistake of overseeing the technical side of content analysis. 
While creating relevant and engaging content is important, let's not forget that technical SEO plays a critical role in getting search engines to find and index your website. 
But technical SEO can get complicated. Here's a tool you can use:
Screaming Frog SEO Spider
Price: Free (500 URLs), Premium ($205/year for unlimited URLs)
The Screaming Frog SEO Spider is a website crawler that gathers on-site data, helping you analyze technical issues in real-time and make changes.
The free version lets you download and crawl 500 URLs. Some of its features include:
Finding broken links and errors
Auditing redirects
Finding duplicate content
Generating XML sitemaps
Reviewing robots and directives
Discovering mixed and thin content 
Run content audits
When was the last time you looked at your content inventory and analyzed their performance? 
Take this: Google loves fresh content. 
Your goal should be to update your site in a timely manner that benefits users, with an aim of increasing clicks, user engagement, and fresh links. 

These are the clearest signals you can pass to Google to show that your site is fresh and deserving of high rankings."

Cyrus Shepard
Performing audits regularly helps you identify how your content pieces are performing and take steps to optimize them.
Here are two tools you can use to run content audits:
SEMRush
Price: Starts $119.95/month
SEMRush's Content Audit tool analyzes your content and provides you with metrics such as shares, backlinks, sessions, content length, content update date, and bounce rate.
It's a good idea to connect your Google Analytics and Search Console accounts to SEMRush so that it extracts key website performance metrics too.
The next step is to identify pages that are underperforming and take corrective action. For instance, let's say you come across a webpage that has decent traffic but a high bounce rate. 
This means that people were interested in the topic but your content wasn't engaging enough to keep them on the page. The corrective action here would be to update the content by making it more comprehensive, adding visuals, including new statistics, adding quotes, etc.
MarketMuse
Price: Starts at $179/month
MarketMuse is a content analysis tool you can use to conduct a content audit. 
You don't have to worry about doing a manual audit because it uses natural language processing to perform an audit while telling you which content pieces lack depth and need to be updated. It also highlights the comprehensiveness of each webpage and helps you identify gaps.
These are the three MarketMuse metrics you can consider while doing an audit:
Unrealized value: determines if a content update is worth pursuing
Personalized difficulty: determines effort required to update a content piece
Competitive advantage: determines how likely you are to achieve a positive outcome
Use content analysis tools to improve content quality
As a content marketer, the goal isn't to impress your audience. It's to educate or inform them. Making content marketing decisions on a whim won't cut it.
This is why it's important to use a stack of content analysis tools that'll give you access to the data you need to create high-quality content consistently.