TABLE OF CONTENTS
What is Marketmuse and Why do People Like It?
What are the Best Marketmuse Alternatives and Competitors?
Which Marketmuse Alternative Is Right for You?
WordPress Table of Contents by Topic
Marketmuse was the first AI-powered content intelligence platform. As years rolled by, they've created a phenomenal product to help companies craft compelling SEO content.
But is it the right platform for you?
We tested five popular Marketmuse alternatives for a day. This guide will help you pick the right content marketing software for your use case and budget.
Here are the top 5 alternatives to Marketmuse:
Topic
Clearscope
Dashword
Surfer SEO
Frase
Let's get started.
What is Marketmuse and Why do People Like It?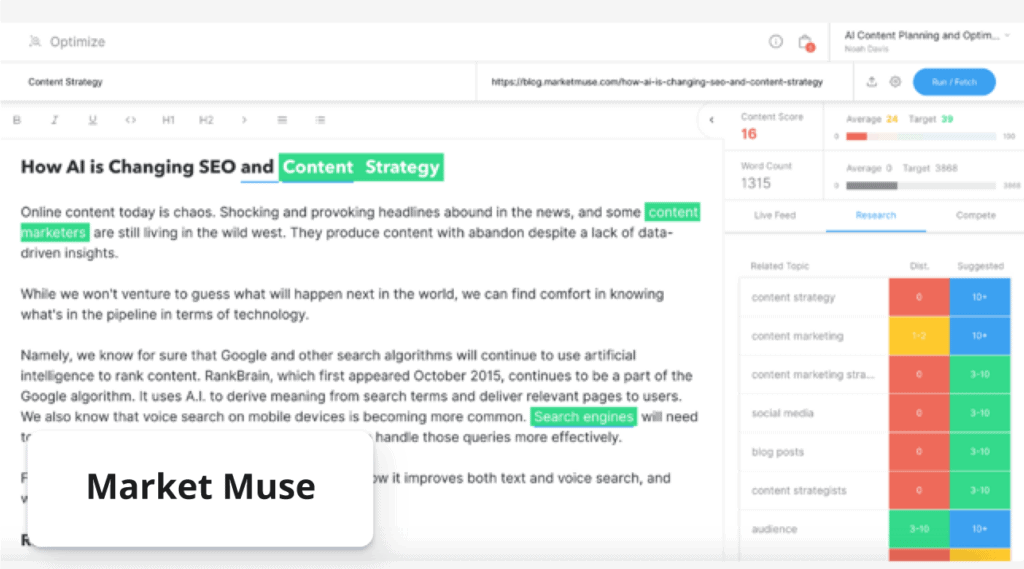 Marketmuse is an enterprise content intelligence and strategy platform. Their core focus lies in automating your entire content strategy all with the help of AI.
With Marketmuse, you can create an entire content strategy from scratch, auto-generate first drafts of an article with NLP, create content briefs for your writers using AI, and more.
This makes Marketmuse an all-in-one enterprise platform (compared to Clearscope) best suited for teams with deep pockets and looking for help with end-to-end content strategy.
Here are a few key features:
Marketmuse surfaces headings, subtopics, questions to build a detailed content brief.
Content Inventory helps you manage your entire content library in one place.
Content score helps you grade content before you hit publish.
The biggest downside to Marketmuse: their unclear pricing. What's a query vs a credit? What's an application? You won't know unless you dive deeper into their support docs: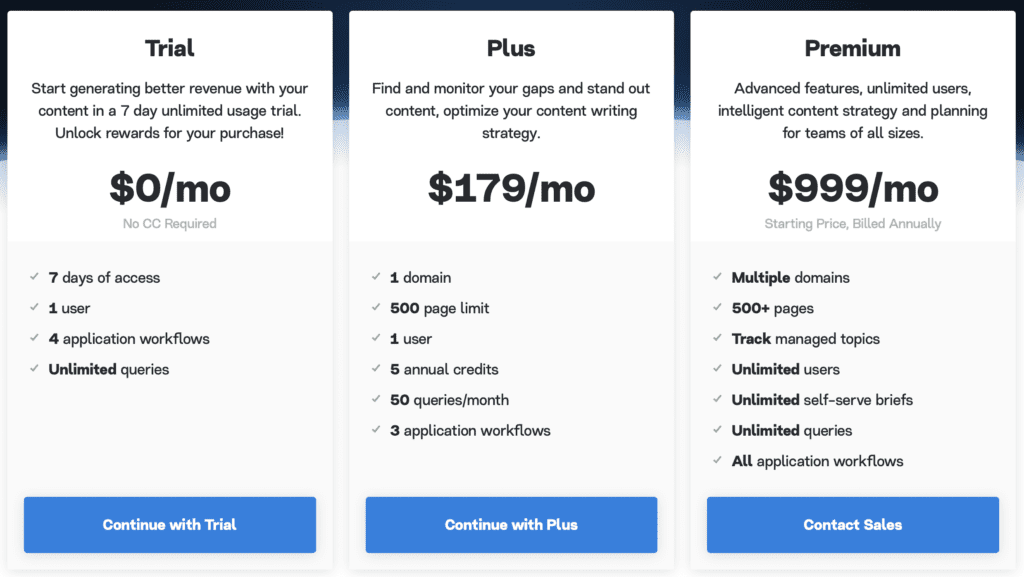 What are the Best Marketmuse Alternatives and Competitors?
Marketmuse isn't perfect and it certainly isn't for everybody. For starters, it's expensive and offers a limited free trial.
Marketmuse is pricey starting at $179/month. For full access, you'll pay as much as $999. With a 7-day free trial, it can be hard to take the plunge or justify ROI.
Marketmuse may be feature-rich, but its complicated workflows can result in a steep learning curve. Not to mention, their poor UX/UI can lower adoption rates within your team.
These are just a few limitations that prevent Marketmuse from being the best SEO tool for determining your content strategy. Here are five Marketmuse alternatives:
1. Topic

At Topic, we focus on solving just one problem – streamlining your content production workflow through content briefs and content optimization. 
We believe that research is the most crucial step in the content creation process.
Crafting a well-researched article involves understanding search intent, analyzing competing articles, and addressing common questions your audience is asking.
This takes time. And on top of that, you also need to figure out your angle.
At Topic, we automate the manual and time-consuming research process so you can spend time figuring out how to make your content stand out.
Our content optimization tool helps you consolidate content research, create high-quality content briefs, and optimize existing content with our intuitive content editor.
Here are some of our key features:
Research Section
Topic analyzes top results for your target keyword and generates a research document that includes headings, questions, and relevant topics. You can curate this research into a comprehensive outline using Topic's outline builder functionality.
AI-Powered Brief Generation
Thanks to GPT-3, Topic can automagically generate a content outline for you. Plug in a title and description and let the AI do the rest. Use this feature with our research section to build high-quality briefs for your content writers in minutes (not hours).
Content Grader
Use Content Grader to see what your draft is missing. Optimize before you hit publish to ensure every article covers what your audience is looking for. Our Google doc and WordPress plugins offer content grader right where you need it.
Topic vs. Marketmuse
Pros:
Save time and build content briefs in minutes (not hours).
Rank higher on Google by optimizing with content grader.
Simple, transparent, and affordable pricing.
Cons:
No internal linking suggestions.
No content audit or refresh features.
AI-generated headlines sometimes inaccurate (we're working on it!)
Best for: Content teams and agencies.
Pricing: Our starter plan (best for solopreneurs or startups) starts at $99/month and our plus plan (for content teams or agencies) costs only $199/month.
[sc name="cta-demo-request" ]
2. Clearscope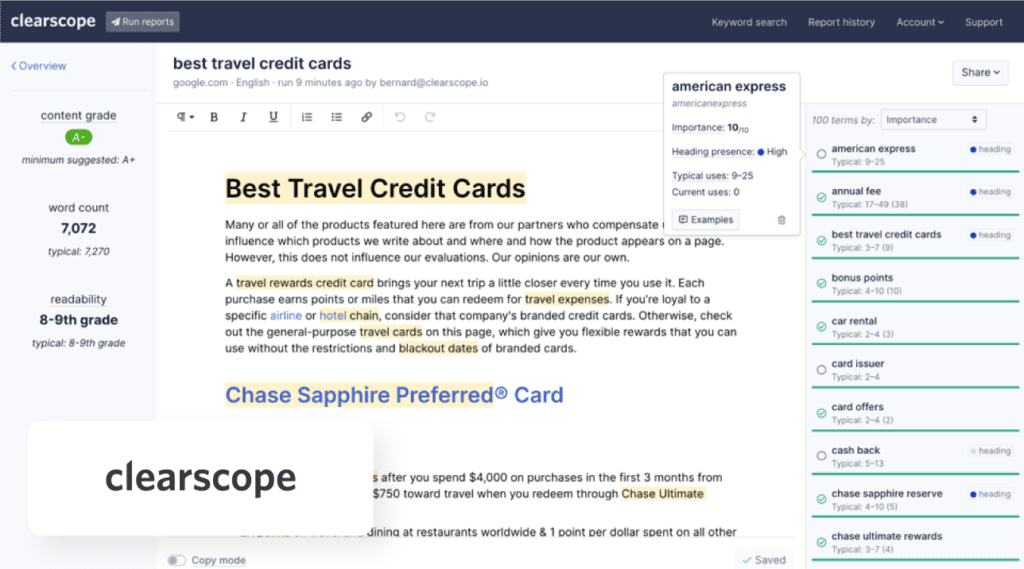 Like Marketmuse, Clearscope was one of the first content optimization tools on the market. Their co-founder Bernard Huang is a well-known SEO in the industry.
Writers use Clearscope to create high-quality content that's loved by both readers and google search. The result? A great reading experience and higher organic search traffic.
Clearscope's strength lies in its AI-powered content optimization feature called "Optimize". With Optimize, you not only save time but also remove any guesswork involved in figuring out what readers want to hear from you.
Pop a piece of content into Clearscope to get insights on content relevance, comprehensiveness, and LSI keywords to include. You'll receive a letter grade to show how well your content is optimized for SEO.
Clearscope vs. Marketmuse
Pros:
A++ quality content optimization
Docs and WordPress integrations.
Cheaper than Marketmuse (in the long term)
Cons:
No content briefs generation
No competitive analysis feature
No content strategy toolset
Best for: Content managers and agencies.
Pricing: Clearscope's most popular plan will cost you $350/month. The newly introduced $170/month plan, while cheaper, is limited.
Further Reading: 5 Clearscope Alternatives (Tried & Tested)
3. Dashword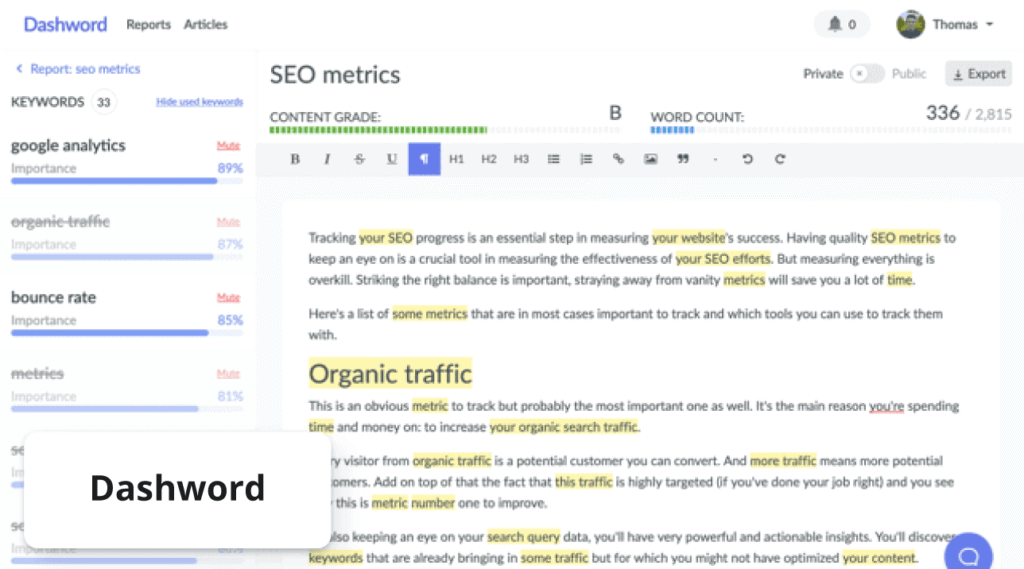 Dashword is a content optimization tool offering features similar to Clearscope.
The content editor offers keyword suggestions on the left, a letter-based content grade for gauging content quality and recommended word count on the top.
Enter your target keyword and Dashword generates a report of competing articles in SERPS. This includes average word count, content grade, relevant terms, and readability level.
Dashword's biggest con is its poor term quality. Terms like "good idea", "great way", and "example" are recommended when I run a report for "SEO content":
Dashword vs. Marketmuse
Pros:
Access to unlimited reports.
Simple and easy-to-use user interface.
Much cheaper compared to Marketmuse.
Cons:
No content brief generation.
Poor term quality.
No keyword research tool.
Best for: Freelancers
Pricing: For access to unlimited reports you'll be paying a flat $99/month. Dashword also offers a free trial with one free report.
4. Surfer SEO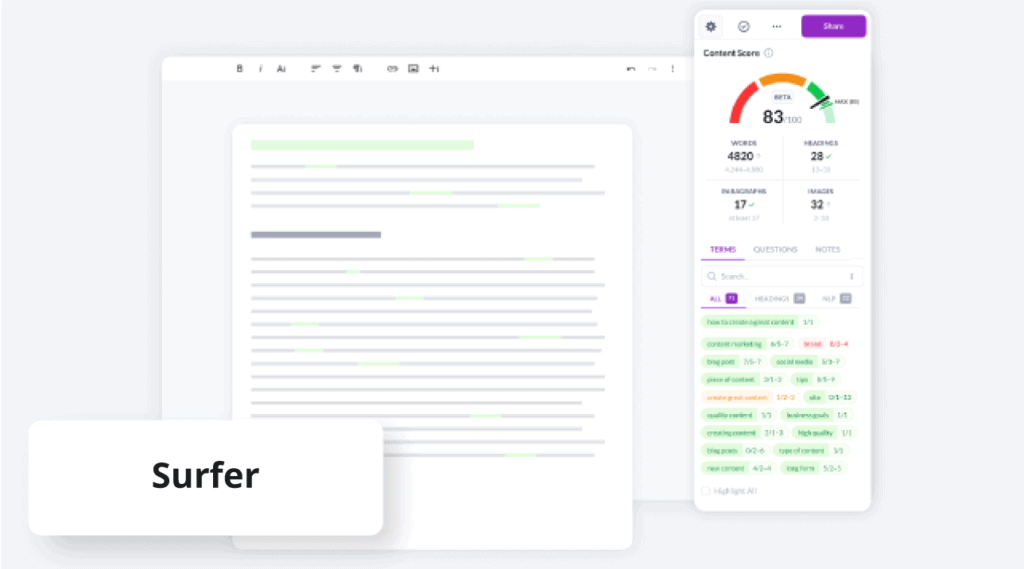 Surfer SEO is also an AI-driven content optimization tool. Their strength, however, lies in on-page SEO optimization.
Start by entering the target keyword you want to rank for. Surfer will then analyze the search results for 100s of data points such as recommended word count, recommended keywords and phrases, image alt tags, and backlinking information.
Instead of the "write what your audience wants to read" philosophy, Surfer chooses to focus on the technical aspect of SEO writing.
This makes Surfer a much better fit for expert-level SEOs looking to solve the problem of on-page optimization for both new and existing content.
They utilize Google's NLP APIs but there's room for improvement. Here's are Surfers recommendations, some of which are generic and won't improve your content quality:
Surfer SEO vs. Marketmuse
Pros:
Powerful content audit and refresh features.
Robust technical SEO toolset.
Content planner to create a content strategy in minutes.
Cons:
Low-quality recommendations.
No content inventory feature.
Weak content outline generation.
Best for: Freelancers or Technical SEOs.
Pricing: The basic plan starts at $59/month. To access all features, expect to pay $99/month and more.
Further Reading: 5 Best Surfer SEO Alternatives (Tried & Tested)
5. Frase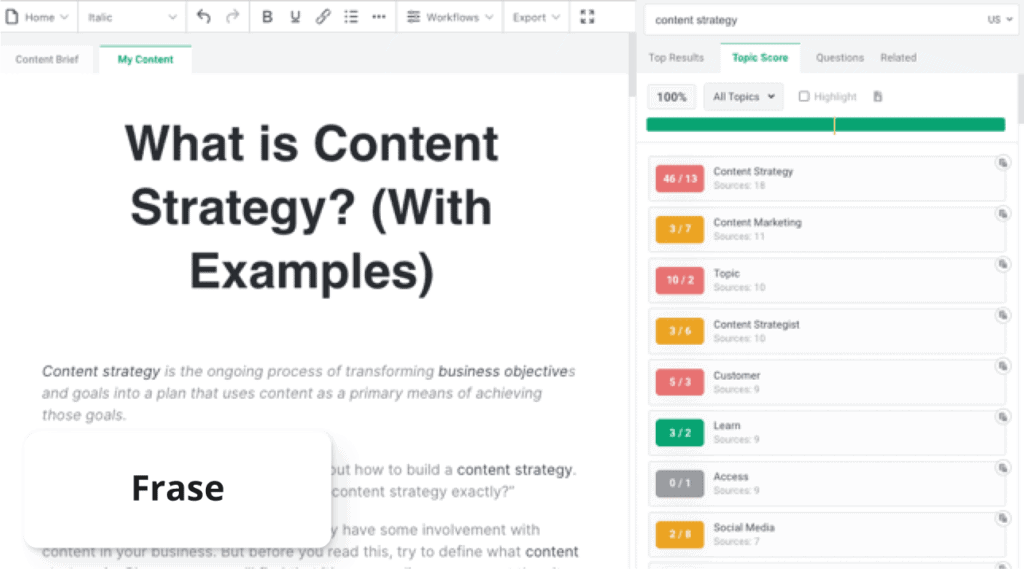 Frase is primarily a content answer engine platform. Their strength lies in answering questions your readers might have with the help of their chatbot integration.
Not only that, but they also offer content brief generation to help you build briefs quickly.
Frase can output a huge list of subtopics – usually 100+. You'll need to manually sift through them and pick the most relevant ones. Failing to do so can make your writer jam all the subtopics in the article, leading to a poor reader experience and increased writing costs.
Key features:
Frase surfaces headings, subtopics, and questions to help build a content brief.
AI answer engine chatbot helps answer questions your readers may have.
Content scoring system to grade content before you hit publish.
Frase is best suited for anyone on a tight budget and willing to take the time to curate the subtopics list by themselves.
Frase vs. Marketmuse
Pros:
Much cheaper compared to Marketmuse
Decent content brief generation.
Powerful Q&A features.
Cons:
No writing assistance.
Weak content optimization.
Poor help and support for navigating the tool.
Best For: Bloggers and freelancers.
Pricing: The basic plan starts at $45/month and the team plan costs $115/month. Frase also offers custom enterprise plans.
Which Marketmuse Alternative Is Right for You?
Like any tool in this list, Marketmuse has its pros and cons and may not be the right solution for your specific use case or budget.
Our recommendation? Pick a tool that offers the features you need at a price that fits your budget. Some tools offer a free (or cheap) trial, so be sure to take advantage of them!
If you're looking for an inexpensive content brief and optimization tool that will help you create better content, faster sign up for Topic today!
[sc name="cta-marketmuse"]