Firstly, we'd like to give a shout-out to the team at Frase. They've built a great SEO tool content creators can use to optimize content for Google based on topics, popular questions, and more.
But Frase has a few limitations that hold it back from being the best tool for determining your content strategy. We'll explain how Frase falls short and why you should consider a Frase alternative such as Topic to help you with content briefs and optimization.
What's the difference between Topic and Frase?
Frase is primarily an answer engine platform. Their strength lies in answering visitors questions with their chatbot integration (known as the Frase answer engine).
Frase also offers content brief and content optimization features. Quickly build a content brief by surfacing headings, subtopics, and questions. Frase also offers a content score to grade your content before you hit publish.
However, both these features are lacking resulting in poor brief generation and less than optimal content optimization experience. We'll explain why that is later.
At Topic, our core focus as a content tool is to help you speed up the research process when creating a new piece of content.
We believe that research is the most crucial step in content creation. Crafting a well-researched blog post involves understanding search intent, analyzing competition, uncovering topic ideas, and looking for common questions searchers are asking.
This takes time. And on top of that, you need to figure out your angle.
With Topic, automate the time-consuming research process so that you can spend time figuring out how to make your content stand out.
Here are a few unique ways we differentiate ourselves from Frase:
Why is Topic a better Frase alternative?
1) Accurate Content Optimization
On the surface, every content optimization tool looks similar, but the devil's in the details. Think of a content optimization tool like GPS helping you navigate to your destination efficiently. If your GPS takes you through a longer route, you're wasting both time and energy.
Let's dive into an example. For the query "how to write SEO content", Frase generated a list of 140 topics. But Topic came up with a list of 53 related topics. Why? We apply advanced statistical analysis to give you only the most accurate topics: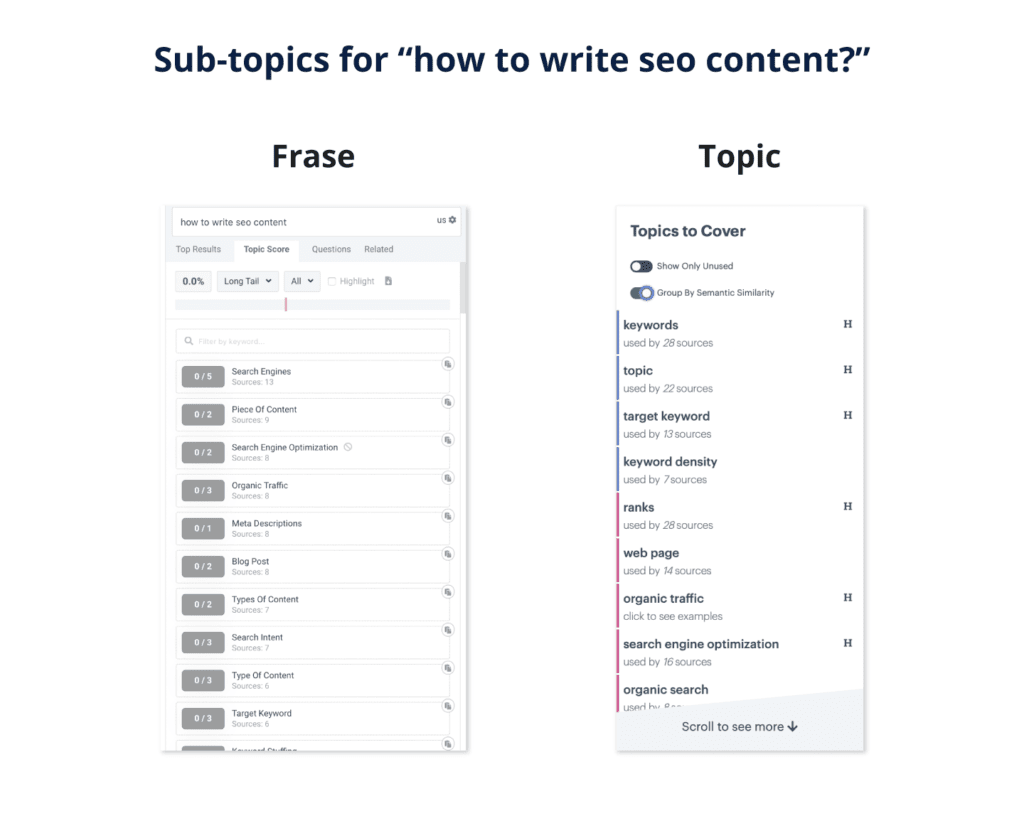 With Frase, you'll have to manually filter this list out. If it's a topic you aren't familiar with, then that means more work for you. Doesn't that defeat the whole purpose of using a content optimization tool in the first place?
If you're already aware of this problem and are using Clearscope or Marketmuse to remedy it, why pay for two separate tools and complicate your workflow?
2) Richer Brief Functionality
Every Topic brief comes with additional features that will help you create detailed content briefs in half the time. Here's how it works:
AI-Driven Headline & Outline Generation
Struggling to come up with a headline for your next article? Topic's AI helps you come up with interesting titles and descriptions as part of your content brief creation process.

Enter a target keyword and we'll analyze top articles, identify user personas, uncover word counts, and generate different angles you can use to create your content. Here's a screenshot of an AI-generated headline (thanks to GPT-3):
Topic takes it a step further and generates a content outline. Here's an outline generated by GPT-3. Use this as a starting point to build a more robust outline:
Competitive Analysis
In order to figure out how to stand out when it comes to creating SEO-friendly content, you need to understand your SERP competition.
Is it their domain authority? Or their content comprehensiveness that's driving their rankings? Topic's competitive analysis section merges SEO and content analysis data to give you powerful insights into your competition.

Use this data to outrank your competition. Frase doesn't provide this 360 view that once again, shifts the onus on you to conduct manual analysis.
3) Faster Adoption Rates
Topic focuses on just one problem, which means we were able to design a simple, straightforward interface. This helps increase adoption rates within your team, so you can make the most of the tool.
Given Frase's focus on a wide variety of features, it can be quite overwhelming to navigate their platform. Which means your team will be less likely to adopt it.
Topic vs. Frase: What's right for me?
We'd love to say we're the right tool for you but here's an honest answer:
Frase is best suited for anyone on a tight budget willing to take the time to curate the subtopics themselves. If you're a blogger or freelancer, we recommend Frase. They offer a free plan so you can test the waters while their paid plan starts at $45/month.
You may ask, Frase offers powerful Q&A features and decent content brief generation for a low price, so why pick Topic when it's really expensive?
If you care about your content performing well on search and want a platform that enables you or your team to get there faster, Topic is the best fit. If you only care about creating content briefs and don't mind putting in manual effort to verify content quality, then Frase is a better fit for your budget.
Did we mention that you get access to our keyword research tool with all our paid plans?
Bottom line: If you're already spending $$ or $$$ per article, paying a little more to increase chances of your content ranking higher while saving hours of manual effort is a no-brainer.
We believe this alone makes Topic the best alternative to Frase for both content briefs and content optimization.
What are you waiting for? Start writing with Topic today!
Comparing Key Features Topic vs. Frase
| | | |
| --- | --- | --- |
| Feature | Topic | Frase |
| Content Research | ✓ | ✓ |
| Outline Builder | ✓ | ✓ |
| Questions To Answer | ✓ | ✓ |
| Topics To Cover | ✓ | ✓ |
| Content Grader | ✓ | ✓ |
| Keyword Research | ✓ | ✓ |
| Share Functionality | ✓ | ✓ |
| Competitor Outlines | ✓ | ✓ |
| Competitive Analysis | ✓ | ✓ |
| Google Docs Extension | ✓ | ✓ |
| WordPress Extension | ✓ | X |
| Outline Idea Generation | ✓ | X |
[sc name="cta-demo-request" ]