TABLE OF CONTENTS
What is Content Optimization?
Top 3 Clearscope Features
Top 3 MarketMuse Features
Which is Better: Clearscope, Marketmuse, or Topic?
WordPress Table of Contents by Topic
In this guide, we'll compare Clearscope vs. Marketmuse — two popular AI content optimization tools in the market.
We'll conduct an in-depth review on features, pros and cons, as well as pricing for both Clearscope and Marketmuse.
Need help picking the right SEO content tool for your use case and budget? Then you'll find this guide useful.
Let's dive right in.
What is Content Optimization?
Content optimization ensures you create content that reaches a wider audience, drives more search traffic, and helps hit your business goals.
Here are a few steps involved in effective content optimization:
Keyword research to uncover what your audience is searching for.
Writing effective meta descriptions and title tags.
Matching your content to searcher intent.
Optimizing content headlines.
Incorporating relevant visual aids.
If this all seems overwhelming, trust me, you're not alone.
There are many content optimization tools that offer a checkbox process you can run each piece of content through. Optimize quickly, effectively, and drive better results consistently. All with a few clicks.
Further Reading: Content Optimization Software and Tools [2021]
Clearscope and Marketmuse are AI-powered content platforms. But they don't create content for you. And they don't handle your marketing either.
What do they do? These tools provide valuable insight and information into what you're writing. More importantly, they help you identify what to write about.
Think of any content optimization software as a trusted helper that polishes your content until it shines with information and expertise your audience wants and needs.
Content optimization software can:
Help you write content like a subject matter expert: it provides specific keywords and topics to cover that prove your expertise and increase your status in the industry.
Increase organic traffic: it uncovers high-volume keywords that match user intent you can include in your content. The result? More traffic without the keyword stuffing.
Highlight content issues: it uses advanced technology to pinpoint any issues with your content that might be preventing it from ranking higher.
Let's dive deep into each platform starting with Clearscope.
What is Clearscope?
Clearscope was one of the earliest content optimization tools on the market. Their co-founder Bernard Huang is a well-known SEO in the industry.
Writers use Clearscope to create high-quality content that's loved by both readers and google search. The result? A great reading experience and higher organic search traffic.
Clearscope's strength lies in its content optimization feature "Optimize" which uses IBM Watson. With Optimize, you save time and cut the guesswork involved in figuring out what readers want to hear from you.
Pop your content into Clearscope to get insights on content relevance, comprehensiveness, and LSI keywords to include. You'll also see a letter grade that shows how well you've optimized your content for SEO.
Further Reading: 5 Clearscope Alternatives (Tried & Tested)
Top 3 Clearscope Features
1. Optimize:
Clearscope's flagship feature. Optimize provides relevant insights on:
Competitor content
Average word count
Relevant LSI keywords
Readability level
Formattting
Optimize assesses your content in real-time and offers on-point optimization recommendations:
2. Keyword Planner:
Clearscope's keyword research tool is easy to use, fairly informative and makes search engine optimization a breeze.
Enter a target keyword and you'll get a curated list of 30-40 keyword suggestions and relevant terms to include in your content.
You'll also find search volume data and historical trends for each keyword. Which I'm assuming comes from Google keyword planner.
3. Google Docs and WordPress Integrations:
Clearscope offers additional writing assistance with their integrations. Writers can use Clearscope within Google Docs or WordPress to allow for seamless adoption of the tool.
Pros and Cons of Clearscope
Pros:
A++ quality content optimization.
Google Docs and WordPress integrations.
Cheaper than Marketmuse (in the long term).
Cons:
No content brief generation.
No backlinking features.
No content strategy toolkit.
Clearscope Pricing
Let's get down to brass tacks. How much does Clearscope cost?
Well, you have three options to choose from:
Essentials: $170/month. The basic plan offers one user seat and 20 report credits per month.
Professional: $350/month. 3+ user seats, 50+ credit reports, and access to a keyword research tool.
Enterprise: Custom pricing. Custom credits and user seats. Custom Google top-level domains (TLDs).
Clearscope's pricing is simpler compared to Marketmuse. Also, Clearscope starts off expensive but ends up being cheaper over the long term (vs Marketmuse).
But, Clearscope is still pricey and best suited for mid or large-sized companies.
That's Clearscope for you. Let's take a look at Marketmuse.
What is Marketmuse?
Marketmuse is an enterprise content intelligence and strategy platform. Their core focus lies in automating your entire content strategy with the help of AI.
With Marketmuse, you can create an entire content strategy from scratch, auto-generate first drafts of blog posts with NLP, create content briefs for writers using AI, and more.
This makes Marketmuse an all-in-one enterprise platform (compared to Clearscope) best suited for teams with deep pockets and looking for help with end-to-end content strategy.
Here are a few key features:
Marketmuse surfaces headings, subtopics, questions to build a detailed content brief.
Content Inventory helps you manage your entire content library in one place.
Content score helps you grade content before you hit publish.
Further Reading: 5 Marketmuse Alternatives (Tried & Tested)
Top 3 MarketMuse Features
1. Content Inventory:
Marketmuse takes stock of all the content you've created so far. Get detailed insights on the topics you've covered, the quality of these pages, and tactical recommendations to improve them.
Aside from offering an in-depth view into your own content, Marketmuse gives you information into how well the competition is covering the same topics which can be helpful.
2. Content Brief Generation:
Unlike Clearscope, you can create content briefs using Marketmuse. Using AI, Marketmuse can generate a content brief for you in minutes (instead of hours).
Marketmuse content briefs contain insights on recommended titles and subtitles, user intent, related topics, linking suggestions (internal and external), and questions to answer.
3. First Draft Natural Language Generation:
One of their most promising features, "First Draft" uses AI to generate a rough draft of a blog post on any subject. All you need to do is provide it a content brief.
While it's not perfect, no AI can write entire articles from scratch yet. Marketmuse First Draft is definitely getting there: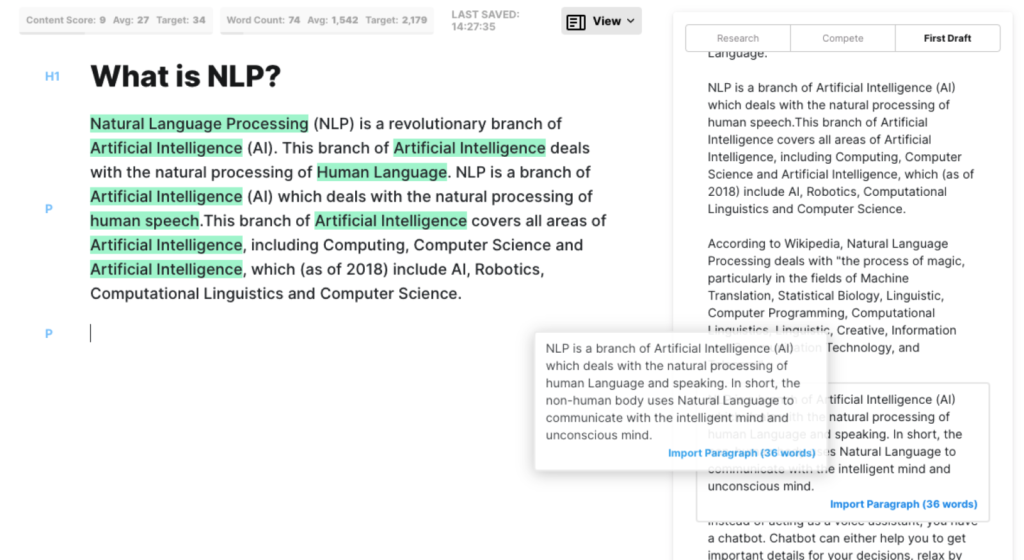 Pros and Cons of Marketmuse
Pros:
Content inventory.
Content brief generation.
Content optimization.
Cons:
Unclear and expensive pricing.
Complicated workflow results in a steep learning curve.
Poor UX/UI can reduce adoption rates.
MarketMuse Pricing
How much does Marketmuse cost? Apart from a 7-day trial, they offer two pro plans:
Plus: $179/month. One user, one domain, and limited to 500 pages.
Premium: $999/month. Unlimited users, multiple domains, and access to 500+ pages.
The biggest downside to Marketmuse? It's complicated pricing.
For example: What's a query vs a credit? What's an application? You won't know unless you dive deeper into their support docs.
Marketmuse starts at a reasonable $179/month but gets very pricey at $999/month (for full access to their platform). With a 7-day free trial, it can be hard to take the plunge or justify ROI.
Marketmuse is more expensive (vs Clearscope) best suited for enterprises looking for an all-in-one content strategy platform.
What if you're an early-stage content team, upstart agency, or a small business? Both SEO tools can be a huge investment. Here's an alternative:
What is Topic?
There are feature differences between all SEO tools. But at its core, Topic was designed to speed up the research process when creating new content.
We believe that research is the most crucial step in the content creation process.
Crafting a well-researched article involves understanding search intent,analyzing competing articles, and addressing common questions your audience is asking.
This takes time. And on top of that, you also need to figure out your angle.
At Topic, we automate the manual and time-consuming research process so you can spend time figuring out how to make your content stand out.
Our content optimization tool helps you consolidate content research, create high-quality content briefs, and optimize existing content with our intuitive content editor.
[sc name="cta-demo-request" ]
Top 3 Topic Features
1. Content Research Section
Topic analyzes top results for your target keyword and generates a research document that includes headings, questions, and relevant topics. You can curate this research into a comprehensive outline using Topic's outline builder functionality.
2. AI-Powered Brief Generation
With GPT-3, Topic can automagically create a content brief for you. Plug in a title and description and let the AI do the rest. Use this feature with our research section to build high-quality briefs for your writers in minutes (not hours):
3. Content Grader
Use Content Grader to see what your draft is missing. Optimize before you hit publish to ensure every article covers what your audience is looking for. Our Google Docs and WordPress plugins offer content grader right where you need it.
Pros and Cons of Topic
Pros:
Save time and build content briefs in minutes (not hours).
Rank higher on Google by optimizing with content grader.
Simple, transparent, and affordable pricing.
Cons:
No internal linking suggestions.
No content audit or refresh features.
AI-generated headlines can go off rails for certain topics (we're working on it!)
Topic Pricing
Topic's pricing is simple, transparent. and affordable:
Starter Plan: $99/month. 1 user seat. 10 content briefs and optimizations per month.
Plus Plan: $199/month. 3 user seats, 25 content briefs and optimizations per month.
Premium Plan: $299/month. 5 users, 50 content briefs and optimizations per month.
The best part? Any unused credits roll over to the next month! Did we mention you get free access to our keyword research tool with any paid plan?
If you're an enterprise, we'd be happy to provide a plan tailored to your needs. Email us.
Which is Better: Clearscope, Marketmuse, or Topic?
Like with most SEO questions, the answer is, "it depends." Both on your use case and budget.
Still, confused? Here's a TLDR version:
Marketmuse: For A-Z content strategy, research, and optimization — Marketmuse is perfect. The price of entry is low but its credit system can be confusing and restricting.
Clearscope: For all things content creation and optimization, Clearscope is much more powerful than Marketmuse. But it's more expensive at low-level plans.
Topic: For world-class content briefs and optimization at an affordable price (that scales as you grow). Best suited for content teams and agencies.
The bottom line? If SEO is a big part of your business, investing in the right content optimization tool is a must!
[sc name="cta-demo-request" ]