How is this different from Answer The Public?
Technically speaking, Answer The Public uses Google's autocomplete functionality to extract questions whereas our tool uses Google's "People Also Ask" box.

Practically speaking, this means that our tool is able to do 3 things better than Answer the Public:

1. Find questions that do not include the focus keyword.
Because of how Answer the Public works, it is limited to questions that include the focus keyword. Our tool is able to find a broad range of questions that are conceptually related-to, but do not contain, the focus keyword.

For example, for the query "car insurance", our tool is able to find questions such as "What does bumper to bumper not cover?" and "When should you drop full coverage on your car?" which Answer the Public would not be able to identify.

2. Find the priority of questions
Because our questions come directly from how Google, our questions are ordered in the priority that Google has determined for a given query, which is more accurate than the method that Answer the Public uses, which is to use pre-determined modifiers such as "why", "what", and "how" and see what comes up in autocomplete, which may include infrequently searched queries.

3. Find questions for a larger set of keywords.
Finally, our tool is able to better handle a larger set of keywords / queries. For Answer the Public, you can only use the broadest keywords such as "hiring" or "flights", whereas our tool can handle specific queries such as "first sales hire".

For example, for the query "first sales hire", our tool is able to to find 49 questions where Answer the Public is only able to find 3:
‍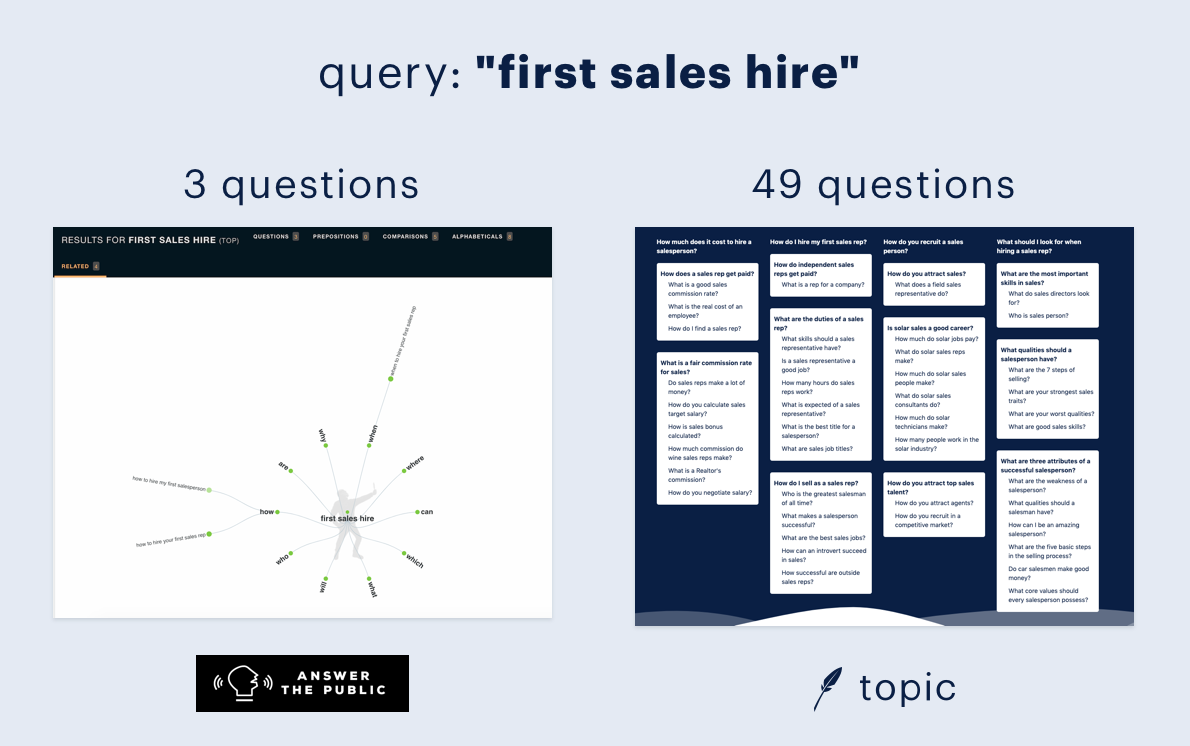 Why are there no results for my query?
Google uses personalized data such as location, profile, and search history to decide whether or not to show the People Also Ask (PAA) box in the search results. So, even if you see the PAA box when you search, that does not mean others will see it. This occasionally results in situations where our tool is not able to deliver results even when you are able to see the PAA box for the same query.
How can I use these questions to improve my content?
There are a few easy ways that you can use the data for this tool:

1. Discover ideas for new posts - depending on the popularity and breadth of a given question, creating a separate blog post specifically answering it can be a powerful way to quickly reach your audience.

2. Help give direction to your writers - if you are already planning on writing a blog post, these questions (and their corresponding answers) can be added to the Frequently Asked Questions section. This increases your post's relevance. To learn more, check out this article on how to use questions in a content brief.

3. Optimize your existing blog posts - a great way to increase the performance of an existing post is to add questions and answers to it.